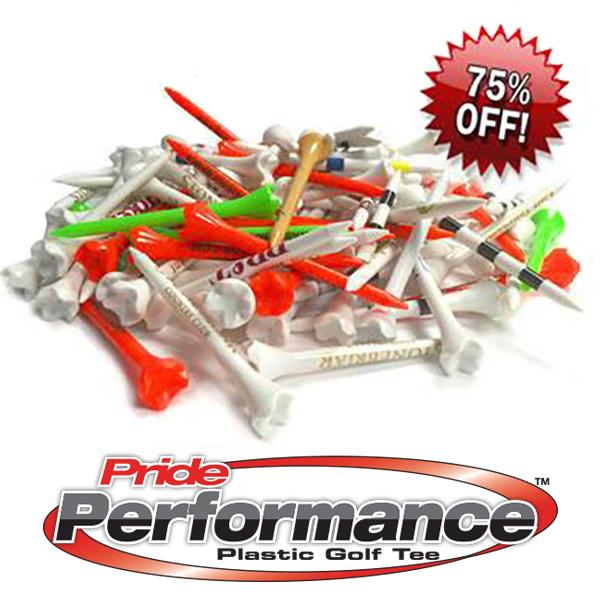 Pride Performance™ Tees - Misprints/Overruns
Pride Performance™ (Misprints/Overruns)
Here's a steal! We have limited quantities of the popular Pride Performance™ tee in over-runs and mis-prints offered at a HUGE discount. Ignore the imprint and enjoy this unique design at a mere fraction of the regular price. Blank Performance™ tees are currently offered at $39.95...get these for only $9.95 for 250 tees...this is a GREAT DEAL. Currently available in 2 3/4" and 3 1/4" size packs. Stock up and save! Tee colors vary in packs.
Choose from 2 3/4" or 3 1/4" Performance™ Tee Sizes
Pride Performance™ tees are engineered with special low-resistance tips that create less friction between the golf ball and tee. Tees come in a variety of attractive colors. The 2 3/4" size is the most commonly order tee size, great for drivers under 360cc. The long 3 1/4" size is popular size for all drivers

Plastic Pride Performance™ golf tees are a specialized high-performance tee constructed with top grade ABS material. ABS gives the Performance™ tees unmatched durability, lasting for more drives than traditional tees. Available in white, natural, black, citrus orange, citrus green, citrus pink, dark blue, yellow, citrus mix and fruit mix.

Performance™ tees are engineered with a four-prong cup design that distributes less friction between the tee and the golf ball during impact. The result? Longer drives!
Choosing The Right Tee Size
Many golfers have a particular favorite size depending on the club being used. If your purchasing for an outing or event and not sure, the most common size is our 2 ¾" tee.

2 3/4" - for drivers under 360cc 
3 1/4" - for drivers over 360cc
Shipping
Each custom order takes approximately 5 business days for production, except for golf balls, which take on average 7-10 business days. We then ship via ground shipping, which typically takes 3-5 business days depending on the location.
We offer free ground shipping with $75 purchase. For orders below $75, there is a $10 flat rate ground shipping charge.
We have two expedited shipping options: $15 3-day shipping or $50 rush shipping. Rush shipping includes a rush lead time of 3 business days and overnight shipping (4 total business days). Unfortunately we cannot rush production on personalized golf balls. 
CUSTOM PRINTING
We offer 1 or 2 color imprint on any white or natural tee. 1 color is the default unless 2 color is selected upon placing your order. We do not currently offer a cup imprinted tee.
Tees are printed from tip to cup by default unless it is noted otherwise on your order.
No, a white background will not be printed on the product.
Other